Modern Home Office Ideas

It doesn't matter whether it's by choice, or through necessity, but over the last three years we've seen more people working from home than ever before.
When working from home, a modern home office and dedicated office space can make a world of difference to your output. Building your own dedicated space for work is easier said than done, but if you have the space at home, or even simply a corner of the dining room, you can build a bright home office with very little.
Those looking for modern home office ideas will no doubt be looking for inspiration on the web, in magazines, and on the TV. The good news is that inspiration is all around us, we just need to know where to look. A new desk lamp here, a shiny leather desk chair there and you already have a couple of essentials that can make a real improvement.
If you're fed up of carrying your laptop from one room to the next and are looking to make your own home office setup without spending a fortune, you should find the following useful. You don't need to be an interior designer to build modern home offices, as you will see below.
Here are several modern home office ideas and some of the best home office ideas needed to build your very own contemporary office at home.
Choose a dedicated workspace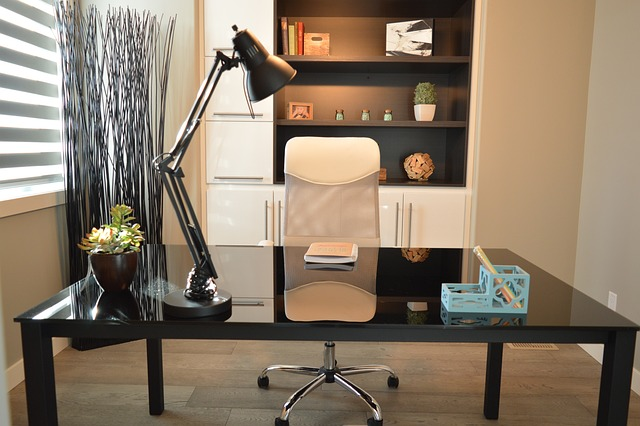 First and foremost, if you're committed to building a modern office at home, the first thing you need to do is choose a dedicated workspace.
To be productive you will need a modern office space which means finding a suitable room or area at home that you can use to turn into a contemporary home office.
It doesn't matter whether it's a spare bedroom, a guest room, an insulated outhouse, or even an area under the stairs, if you want a stylish home office you are going to have to choose your own dedicated workspace, and stick with it.
Once you've chosen a suitable room or area to serve as your new office space, then you can start thinking about things like a desk area, a focal point, open shelving, table lambs, and other furniture and accessories you'd expect to find in an office.
Lighten up your new office space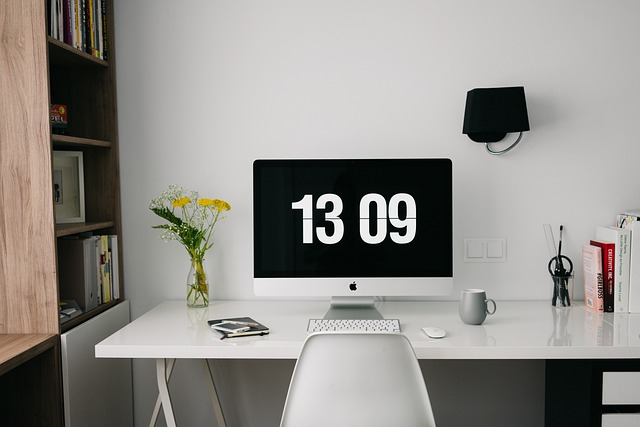 If you want to create a productive and warming atmosphere for your dedicated home office, try to avoid predominantly dark colours and focus on light instead.
Consider painting the walls a neutral colour such as white or cream, and find ways of letting more natural light into your home office. Natural light is very important as it will help to brighten up the room and help you get some natural light which will improve your mood.
When designing a home office, avoid large items of furniture and accessories that block natural light. Also, make sure you have the curtains open to let all of that wonderful sunlight into the room.
Having a bright and airy room will help open up the entire room and thanks to the natural light from the sun, it will help lighten your mood and make your home office appear more warming and welcoming.
If you want a modern space, light and neutral colours are the way to go, as they will help create a more airy and visual space which will help with your mood and productivity. Not only that, but the brighter the home office the easier you'll find it to do your job.
Choose the right lighting for a modern office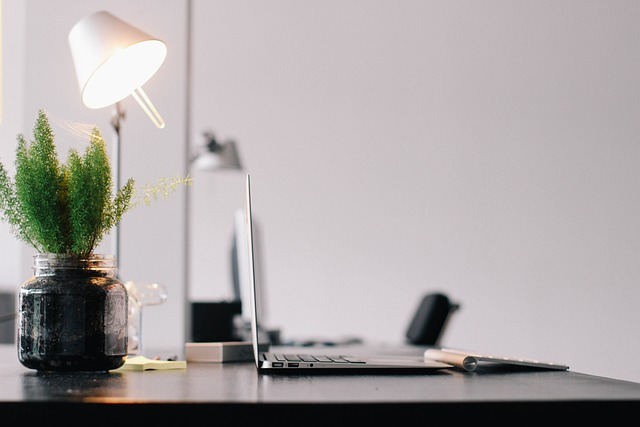 When looking for home office design ideas, you'll often notice that interior designers and decorators will place such an emphasis on lighting.
Of course it's important to let plenty of sunlight into the room, but what about in the fall and winter months, or on days when the weather is dark and dreary? Then you will need to invest in the right light fixture and the right light bulbs for a modern home office.
You want a home office space that is well lit so look for plenty of practical overhead lights, and don't forget a desk lamp or two as well. You can even get fancy and go for a contemporary light fixture for a more modern style.
As for bulbs, look for good quality LED bulbs and ensure that the room is well lit. If there is a part of your new office space that is a bit and shady, consider a freestanding lamp in a contemporary design that fits in with the rest of your modern home office.
Build a modern office space with plenty of storage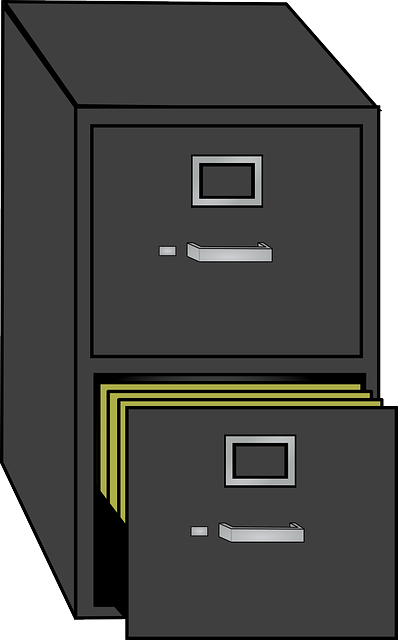 When it comes to modern home office ideas, or any home office for that matter, storage space should always be one of your main priorities.
A practical and modern home office should have plenty of storage space. In fact, when building a modern home office, storage should be one of the first things you consider.
Desk drawers are all well and good, but you'll need things like floating shelves, filing cabinets, or even just something to help keep your paperwork and important documents organized on your desk.
Filing cabinets never used to be the most attractive pieces of office furniture you could own, but nowadays you can find visually appealing filing cabinets in a contemporary design that are perfect for a modern home office.
If you are short of space, a floating shelf can pull double duty as it will not only offer more storage, but it will also help to save space, making it ideal for any modern home office.
Create a modern home office focal point 
Another tip for building a modern office at home, without using up too much space is to create a focal point such as a feature wall.

Modern home offices with a gallery wall, an accent wall, or a simple feature wall look absolutely fantastic, and are incredibly easy to create.

An accent wall in a modern home office is great because it is so easy to do, and it can easily transform even the most mundane of living spaces. You can go ahead and paint just one wall of your modern home office to create a feature wall, or perhaps build a gallery wall with different pictures of different sizes.

As far as modern home office ideas go, this suggestion is great because just one wall can offer more visual interest while also completely transforming the whole room. Even an accent wall can work wonders, you just need to know which colours and accessories will work best to offer more visual interest without overpowering the office.

When people build a modern home office from scratch however, a feature wall is most certainly one of the most important focal points to get right.
 Invest in the right desk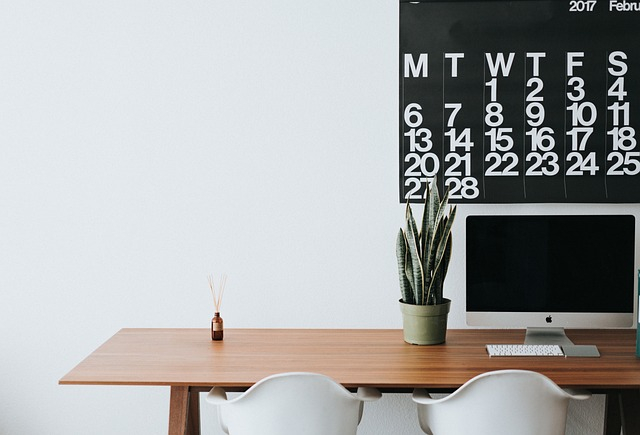 When you start building a modern home office, your desk is one of the most important pieces of furniture you could ever wish for.
Your desk is where you do your work from, not to mention being the workstation where you store your other office supplies and everyday items like your phone, stationary, and of course, that all important cup of coffee in a morning.
If you want to build a modern office, your desk is one item of office furniture that you are going to want to get right. A modern space can be made or broken by a desk, so choosing a contemporary style that fits with the décor of your modern home office is vital.
Choose a home office desk in a colour scheme that matches the rest of your office, while also providing plenty of desk space. Home offices with an eye-catching desk really stand out, so make sure you don't cut corners.
If you are short of space, how about a floating desk, a built in desk, a small desk, or a simple wall unit? If you want to get fancy, you could go with a custom desk, or a standing desk for practical reasons and the health benefits they provide.
Select the right home office chair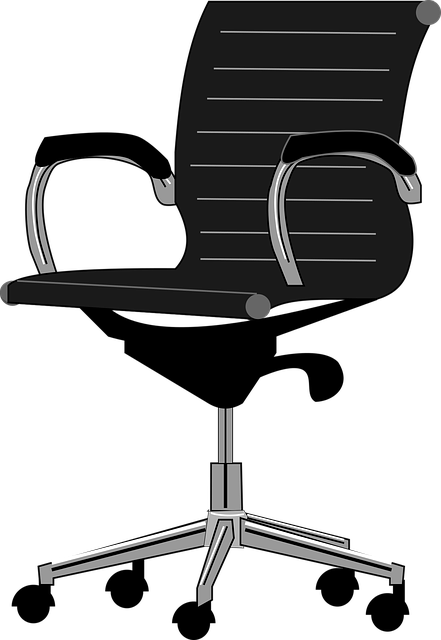 Another hugely important modern home office accessory that you need to get absolutely spot on when building a home office is the right desk chair.
A swivel chair for your home office should not only be in a design that fits in with the rest of the décor and the theming, it should also be comfortable and supportive as well.
It doesn't matter how great your home office chair looks, if it is uncomfortable, or if it simply doesn't offer enough comfort and support, the appeal will soon wear off. Comfortable seating is very important in terms of work output and efficiency, so make sure that the chair you use in your office area is nice and comfortable. 
Many modern pieces these days are made from leather, or a mesh material that lets your skin breathe and helps you to keep cool in the summer. Before you add a new chair to your modern home office, make sure you try before you buy.
Good Tasting Coffee: How to Identify Coffee Flavors
In order to appreciate the different types of coffee available, it's important to cultivate an awareness of its unique characteristics. Let's take a look at the way coffee connoisseurs judge different cups of coffee.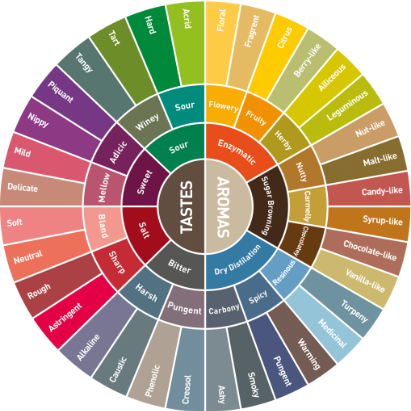 Aroma
The scent of a cup of coffee has a direct influence on how we perceive its flavor. As you drink coffee try to notice if the scent is smoky, fruity, earthy, spicy, nutty or grassy.
Acidity
One of the most defining characteristics of a cup of coffee is its acidity. This is the sharp, bright tangy quality of coffee that perks up our senses. Coffee doesn't necessarily contain just one type of acid, either. It may contain citric acid, malic acid (fruity in flavor) or even quinic acid from stale coffee, which gives us stomach aches.
Body
This is the weight, thickness and texture of coffee in your mouth. The body of different types of coffee falls on a spectrum of light- to full-bodied viscosity (thin to thick).
Flavor
This is where comparisons come in handy and there is some overlap between aroma and flavor. Your coffee might taste bitter, sweet, savory or sour with common comparisons to chocolate, wine or fruit.