Keto Coffee Cake Muffins - The Perfect Oat Fiber Breakfast Recipes
Table of Contents
Keto Coffee Cake Muffins make an excellent breakfast snack or afternoon appetizer, and as you might expect, they go great with a warm cup of coffee.
However, if tea is your preference, these low-carb coffee cake muffins with scrumptious cinnamon and melted butter crumb topping will pique your palate. This delicious recipe is sugar-free, gluten-free, and contains keto coffee.
What isn't to love about these low-carb coffee cake muffins; they're fluffy, melt in your mouth, and have the perfect crunch from chopped walnuts. These delectable keto muffins made with coconut flour and almond milk are the perfect morning snack and low in calories.
What Makes Coconut Flour Coffee Cake Muffins so Healthy?
Low-carb and keto diets are increasingly becoming popular, and we are determined to re-create sugar-free recipes of the classic coffee cake muffins using nutritional wet and dry ingredients such as whey protein powder, almond flour, and coconut oil that are famous for their nutrition facts and benefits and low in net carbs.
Keto Coffee Cake Muffins with Almond Flour Recipe
We agree that great recipes need not be complicated, so make our coffee cake muffin batter in a food processor, directly transfer that into muffin cups, and prepare the crumble topping in the same mixing bowl.
To get started on your keto coffee cake muffins, you'll need the following equipment:
Oven

Muffin liners

A medium muffin tin

Hand mixer

Ice cream scoop - this is optional but simplifies transferring the wet ingredients into the muffin cups for a clean pour
Now that you've ready your baking equipment, it's time to get your coffee cake muffin ingredients together. For this, you'll need the following:
4 eggs

2 cups almond flour

1/3 cup coconut flour

1/2 cup unsweetened almond milk

4-ounce room-temperature cream cheese or sour cream (whichever you prefer)

2 tsp baking powder

1 tsp cinnamon

1 tsp vanilla extract

1/2 natural sweetener

1/4 tsp salt
And finally, for the scrumptious crumb topping, you'll need:
3 tbsp softened butter

1/4 cup almond flour

2 tbsp brown sugar

1 tbsp cinnamon

1/4 tsp salt

1/4 cup chopped walnuts or blueberries - this is optional and can be added according to your preference, but these additions add a delicious flavor and crumb to your keto coffee cake muffins
Preparing almond milk coffee cake muffins
Everyone loves a fresh, home-cooked breakfast, but it's hard to achieve in the fast-paced routines we all have these days, but that is what makes this recipe so fantastic; it can be prepared over the weekend and frozen so that you can make a batch of these keto muffins every day for as many days as they last.
Now let's get started on our coffee cake muffin. Preheat your oven to 325 degrees Fahrenheit and take out your muffin tin, and place as many muffin liners as you require.
Next, bring out your blender and add in your cream cheese, eggs, and vanilla and mix at high speed till the cream cheese is not noticeable, and the beaten eggs are perfectly mixed. For a smooth blend, make sure your low-carb keto coffee cake ingredients are at room temperature.
Next, take out a large bowl and measure in the almond flour, coconut flour, and other dry ingredients and evenly whisk them together.
Now, use a medium bowl, pour your wet ingredients into your dry ones, and fold them into each other using a spatula.
Once combined, slowly add your almond milk until the muffin batter thickness resembles that of a cake batter.
Viola! You've got your coffee cake muffin batter base ready, and now it's time for the filling. Carefully measure and add the softened butter, almond flour, cinnamon, salt, and sweetener into a small bowl and mix them together using a fork; we don't want to thoroughly whip the crumb topping because this will later add texture to your gluten-free keto coffee cake.
Once the batter and cinnamon topping are prepared, scoop the batter into each muffin cup using an ice cream scoop and sprinkle the delicious cinnamon topping into each cup of batter. For an extra kick, you can make a fruity crumble using blueberries, sour cream, vanilla, coconut flour, and a teaspoon of protein powder as an additional topping that is both low in calories and delicious.
Lastly, place the muffin tin in the oven and bake for 20-30 minutes or until the tops of your cinnamon keto muffins are golden.
Cinnamon Muffins - A Delicious Start to Your Morning
There is something so simple and straightforward about grabbing a flavorful crumble muffin that is also low in carbs for breakfast.
You don't have to turn on the oven and start baking instantly to have your home smell like fresh cake batter; these fresh muffins will do it for you.
Most importantly, it's a ready item that you can eat on the go and avoid succumbing to the coffee house pound cake later in the day when you're starving.
All those sugary treats are no longer all that appealing to most, and this natural sweetener and keto lifestyle is a fantastic choice for your health and known temptations.
Additional Suggestions and Substitutions
Go nut free: Sunflower seed flour is the best nut-free substitute for almond flour. In low-carb recipes or other muffins, it can be substituted for almond flour 1:1.
Go dairy free: Consider dairy-free keto coffee cake muffins by replacing the heavy cream or sour cream with coconut cream and the butter with coconut oil, and you have a new recipe.
Try add-ins: Mix berries with sour cream, place between the cake and crumb topping, and bake for a fruity kick.
Add flavor with spices: Mix apple pie spice or pumpkin spice in place of cinnamon in these traditional keto muffins recipe and bake.
Crumble icing drizzle: Instead of powdered sweetener on your muffins, drizzle on a little keto heavy cream cheese frosting for a delicious cinnamon roll twist! Simply thin it using almond milk until it's the right consistency to drizzle. This transforms your recipe into decadent low-carb dessert cuisine.
Takeaway
Hopefully, this recipe will help you start your day with these delicious keto-baked goods and help you explore more recipes that are both nutritious and flavorful.
We all have a sweet tooth, and satisfying that sweet tooth is possible while being on a low-carb diet.
However, we would suggest that before starting any diet or new recipes, check the nutrition information on it and consult your nutritionist.
For more delectable recipes and information on Moriondo Coffee, visit our website. 
Citations
Good Tasting Coffee: How to Identify Coffee Flavors
In order to appreciate the different types of coffee available, it's important to cultivate an awareness of its unique characteristics. Let's take a look at the way coffee connoisseurs judge different cups of coffee.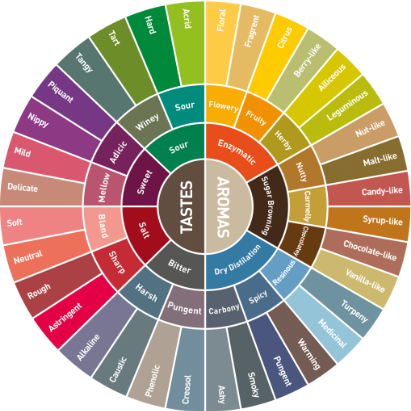 Aroma
The scent of a cup of coffee has a direct influence on how we perceive its flavor. As you drink coffee try to notice if the scent is smoky, fruity, earthy, spicy, nutty or grassy.
Acidity
One of the most defining characteristics of a cup of coffee is its acidity. This is the sharp, bright tangy quality of coffee that perks up our senses. Coffee doesn't necessarily contain just one type of acid, either. It may contain citric acid, malic acid (fruity in flavor) or even quinic acid from stale coffee, which gives us stomach aches.
Body
This is the weight, thickness and texture of coffee in your mouth. The body of different types of coffee falls on a spectrum of light- to full-bodied viscosity (thin to thick).
Flavor
This is where comparisons come in handy and there is some overlap between aroma and flavor. Your coffee might taste bitter, sweet, savory or sour with common comparisons to chocolate, wine or fruit.