Best 3 Single Serve Coffee Makers For Reducing Waste
By 2014, so many disposable K-cups had landed in the waste that if you lined them up, they'd circle the world ten times. Obviously, it's now time for both producers and consumers to take plastic pollution seriously.
By 2014, so many disposable K-cups had landed in the waste that if you lined them up, they'd circle the world ten times. Obviously, it's now time for both producers and consumers to take plastic pollution seriously.
Terracycle, an innovative recycling company that boasts an ability to recycle anything, says single use products are at the heart of the global waste problem. That's why we may have to decommission the hallowed pod machine concept. All pods, eco-friendly or not, rely on a single use packaging design.
This doesn't mean you have to sacrifice your personal cup of joe. We've compiled a list of alternatives to the single-serving coffee machines that use pods, K-cups and capsules.
Moriondo Coffee Espresso Machine
If your office hopes to provide the versatility, ease and predictability of a pod machine without the single use packaging waste, choose the Moriondo Coffee machine. Its sleek, attractive machine grinds and filters the coffee for each cup and provides a variety of coffee drink options without extra accessories. The only waste product is ground coffee, which can be composted.
In order to purchase and use a Moriondo Coffee machine, you join a coffee membership subscription. As a coffee member, you'll receive a monthly supply of the selected coffee bean blend.    
Best for office use. Also suitable for organizations and communal spaces.  

Price: Variable subscription packages depending on monthly coffee needs.  

Coffee options: Multiple coffee blend options to choose from when you order. The coffee machine serves filter coffee, americanos, espressos, lattes, cappuccinos, milk and hot water for tea.

Waste profile: The machine produces minimal packaging waste due to its sustainable multiple-use and bulk-product design. No paper filters needed.  

How it works: Simply plug in the machine and insert the coffee club beans into the machine's grinder. Then, turn on the machine and press a button for your desired coffee selection. Your italian-style coffee drink is prepared in less than a minute.

Machine profile: The machine takes up roughly a two-foot cube of space and requires two outlets. It uses an internal grinder and water tank. Several water tank options are available including a direct water input.  

 
Hamilton Beach Single Serve Scoop Coffee Maker
For pod lovers who want to cut back on waste, you'll feel at home with this Hamilton Beach machine. It's similar to a pod coffee machine in that you simply add coffee beans and press a button for quick filter coffee. Though it has limited coffee options, it's a reliable workhorse of a machine.  
Best for home use.  

Price: Affordable.

Coffee options: The machine provides filter coffee only. You can choose the regular or bold options. The coffee is slightly cooler in temperature than pod coffee machines.

Waste profile: The machine comes with minimal packaging. It includes a mesh scoop stainless steel filter. No paper filters required.

How it works: Simply add the coffee beans, adjust the coffee cup height, place your cup under the spout and wait for freshly b

Machine profile: Stainless steel design. Adjustable height for different sizes of cups.

 
Ninja Coffee Bar Single-Serve System With Built-In Frother
The Ninja Coffee Bar machine has the advantage of offering many coffee options. Though similar in appearance to an espresso machine, it does not provide a "true" espresso. However, settings are available to modify drink potency and cup size. Its milk frother also expands these options, so you can make drinks similar to lattes and cappuccinos.
Be warned that it comes with a variety of parts and accessories that you'll need to store somewhere. It also has a high internal temperature that has the potential to make bitter tasting coffee.
Best for home use.

Price: Mid-range.  

Coffee options: Like the Moriondo Coffee Machine, this machine gives you multiple coffee options including five different styles of coffee and four sizes of cups. It comes with a built-in frother. There is no "true" espresso option, however.

Waste profile: Requires paper filters.

How it works: The machine uses a patent-pending coffee extraction process, internal water filtration, and a milk frothing mechanism. It does not use a built-in grinder and you'll need to supply your own pre-ground coffee.

Machine profile: Plastic design modeled after a stainless steel look. It comes with many accessories requiring cupboard and drawer space.
Now you've connected the dots between the plastic pods that you pull and toss after each single serving of coffee and the ongoing waste crisis. Hopefully, this overview of coffee machines will help you balance your love of coffee with your desire to cut down on waste.
Good Tasting Coffee: How to Identify Coffee Flavors
In order to appreciate the different types of coffee available, it's important to cultivate an awareness of its unique characteristics. Let's take a look at the way coffee connoisseurs judge different cups of coffee.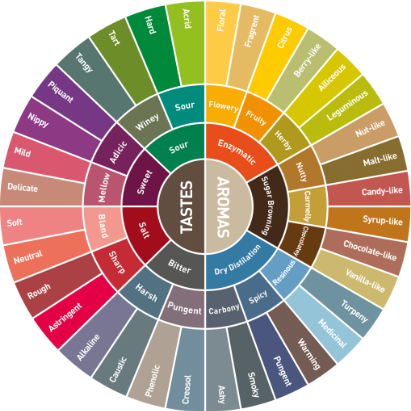 Aroma
The scent of a cup of coffee has a direct influence on how we perceive its flavor. As you drink coffee try to notice if the scent is smoky, fruity, earthy, spicy, nutty or grassy.
Acidity
One of the most defining characteristics of a cup of coffee is its acidity. This is the sharp, bright tangy quality of coffee that perks up our senses. Coffee doesn't necessarily contain just one type of acid, either. It may contain citric acid, malic acid (fruity in flavor) or even quinic acid from stale coffee, which gives us stomach aches.
Body
This is the weight, thickness and texture of coffee in your mouth. The body of different types of coffee falls on a spectrum of light- to full-bodied viscosity (thin to thick).
Flavor
This is where comparisons come in handy and there is some overlap between aroma and flavor. Your coffee might taste bitter, sweet, savory or sour with common comparisons to chocolate, wine or fruit.