8 Eco-Friendly Coffee Tips For Your Workplace
If you're an office manager, you may have noticed the surprising level of waste produced by your colleagues' coffee drinking habits. Whether it's pods, disposable coffee cups, or individually packaged creamer, the accoutrements of coffee drinking often encourage a throw away mindset.
If you're an office manager, you may have noticed the surprising level of waste produced by your colleagues' coffee drinking habits. Whether it's pods, disposable coffee cups, or individually packaged creamer, the accoutrements of coffee drinking often encourage a throw away mindset.
However, neither take away coffee nor single serve coffee themselves are the culprits. The problem lies in single serve packaging. With a Moriondo Coffee membership, designed to reduce waste, these issues recede to the backdrop. Not all solutions treat waste equally, however.
The first step to making change in the office depends on planning. Here are some guidelines for making eco-friendly coffee an essential feature of your office break room. 
Eight ways to make eco-friendly coffee part of your workplace culture 
1. Don't use single serve packaging cups
First and foremost, coffee cups are the least eco-friendly option available. These include any single-serving coffee container (pods, K-cups, or capsules) that fits into a pod-friendly machine. Not only is the coffee used in these pods generally low quality and costly, the level of waste pods produce is excessive. If convenience is your aim, there are excellent alternatives available. Don't give in to this wasteful trend that encourages the throwaway mindset in your office.      
2. Make a "bring your own coffee cup" policy
Ask your employees to bring their own cups and personalize them as much as possible. By personalizing their cups, your employees can express their personality with their coffee cup. By building a strong emotional attachment to the things we own, we're less likely to discard and replace them over time.  
Your office members will not only form the habit of bringing a cup with them each day or leaving one at the office, but they will also take part in the office culture of avoiding single-use paper or styrofoam cups.
Unless your office hosts meetings often, there is no need to stock your cabinets with an arsenal of plain white ceramic cups, either. Keep a small assortment of "back-up" cups on hand and that should be sufficient.
3. Buy your coffee supplies in bulk
This one may seem like a no-brainer, except that office managers sometimes equate "buying in bulk" with buying pods or K-cups in larger quantities. If your bulk purchases still contain small single use containers inside of them, you're actually avoiding the waste-saving power of bulk purchasing.
To make your office more eco-friendly, buy large packages of coffee that come in a single container.
This will eliminate excess single serve packaging.
In addition, you should avoid single-serve packaging materials for milk, creamer and sugar, so that the packaging waste will only consist of a single carton, bag or box.
Try to aim for buying products wrapped in continuously recyclable or biodegradable materials like paper, cardboard, glass, tin, or aluminum rather than plastic materials, which can typically be recycled just once during their lifespan.   
4) Buy the right amount of coffee
It may be tempting to buy in bulk in huge quantities, especially when large packages are on sale, but this can actually lead to excess food waste in your office.
Food waste accounts for 8% of the global greenhouse gas emissions that contribute to climate change.
To counteract the urge to stock up too much, choose quantities that match your office needs.
You can determine your office needs by surveying your office members to ask how much coffee they anticipate drinking each week, and whether they take milk, creamer or sugar in their coffee.
Keep your survey anonymous to encourage honesty.
Based on this information, make purchases that aim for the sweet spot of within 5-10% accuracy of your office consumption.
This way you can avoid excess food waste by making smarter purchases.
5. Compost the coffee grounds
The natural byproduct of coffee making is coffee grounds.
Don't throw these away, because they can be composted. The next step is to find a suitable method to compost them.
Unless you live in San Francisco, where compost gets picked up by the municipality, you may need to get creative to find a place to compost your grounds.
Do some research to see if your city or county has compost drop-off points, or if you have another personal connection through your office network for outdoor composting.
Once you've developed a solution, establish office guidelines for ensuring your coffee grounds get composted rather than tossed.
6. Use a high-quality reusable coffee filter
Sometimes stainless steel basket filters come with coffee machines.
Other times, you may wish to upgrade to ensure greater longevity for your filter use.
The main goal is to find a convenient dishwasher-safe filter that can withstand heavy use.
As communal spaces where employees may use the equipment frequently, offices should attempt to purchase higher quality coffee accessories that are made to last.   
7. Choose simple, user-friendly coffee solutions
For an eco-friendly office, your solutions should be attractive enough that your employees will choose to chat in the breakroom rather than go to the nearest Starbucks.
This way, you can control and minimize the waste internally and reduce the chances that your employees will find alternate options.
Assess your office to understand each member's preferences for coffee.
Find a machine that accommodates most of their needs in the simplest manner.
If you discover that most of your office members drink filter coffee on a daily basis, you may need nothing more than a simple french press.
However, if you find that your office employees have a wide range of tastes, opting for a more versatile machine could improve your chances of satisfying their needs in-house.
8. Purchase from companies that care about sustainability
Whether this means purchasing organic fair trade coffee or choosing a machine designed to reduce waste, it is important that your purchases reflect your eco-friendly office values.
Send the right message and encourage a culture of office sustainability through your coffee purchasing decisions.
Did you know that Moriondo Coffee offers a sustainable office coffee membership that includes:
High-quality single unit coffee machine

Single-serve coffee, espresso, lattes, and cappuccinos

Instant coffee without pods, K-cups, or single-serving waste

Bulk coffee blend ordering options

Consumption-based pricing

Membership support
Good Tasting Coffee: How to Identify Coffee Flavors
In order to appreciate the different types of coffee available, it's important to cultivate an awareness of its unique characteristics. Let's take a look at the way coffee connoisseurs judge different cups of coffee.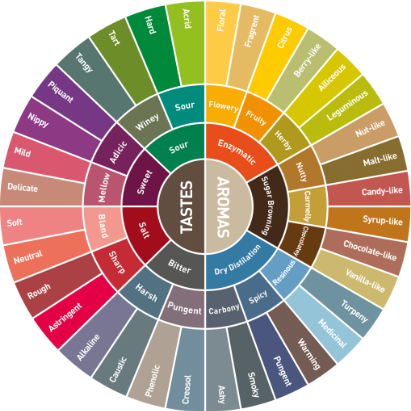 Aroma
The scent of a cup of coffee has a direct influence on how we perceive its flavor. As you drink coffee try to notice if the scent is smoky, fruity, earthy, spicy, nutty or grassy.
Acidity
One of the most defining characteristics of a cup of coffee is its acidity. This is the sharp, bright tangy quality of coffee that perks up our senses. Coffee doesn't necessarily contain just one type of acid, either. It may contain citric acid, malic acid (fruity in flavor) or even quinic acid from stale coffee, which gives us stomach aches.
Body
This is the weight, thickness and texture of coffee in your mouth. The body of different types of coffee falls on a spectrum of light- to full-bodied viscosity (thin to thick).
Flavor
This is where comparisons come in handy and there is some overlap between aroma and flavor. Your coffee might taste bitter, sweet, savory or sour with common comparisons to chocolate, wine or fruit.