Why Does Our Coffee Taste So Good?
Moriondo Coffee prides itself on its single serve coffee machine, second only to its delicious coffee. To make good coffee, you have to use the right equipment. That's why we wanted to write a blog post especially devoted to innovative coffee maker.
Table of Contents
Moriondo Coffee prides itself on its single serve coffee machine, second only to its delicious coffee. This answers the question of why does coffee taste so good.
To make good brewed coffee beans, you have to use the right equipment. That's why we wanted to write a blog post especially devoted to innovative coffee maker. 
Bean-to-cup Coffee Machine Design
Let's start with the concept of more coffee for energy boost.
We know people love single serve coffee makers. But we didn't want to use single-serve coffee cups with unsweetened cocoa powder like they do at the coffee shop.
That's because they have a usable lifespan of only about a minute before they get sent to the landfill. That's why we designed our machine around three key ideas: waste reduction, high-quality coffee beans, and user-friendly design.
As a result, we landed on the perfect solution, which we call "Bean-to-cup."
This means that our machine uses a heavy-duty grinder to quickly grind coffee beans for a single-serving.
Then the machine uses steam pressure, much like an espresso machine, to prepare fresh Italian coffee drinks in less than 90 seconds.
Our customers are often impressed by the bean-to-cup concept because it provides fresh-tasting coffee tastes in a matter of seconds. This eliminates the bitter aftertaste of pre-ground coffee tastes and since the brew coffee beans are contained in the machine's enclosure, they don't quickly lose their freshness.  
The only byproduct of the design is compostable hot coffee grinds. As long as the milk, water and coffee supply are full, the user only has to press a button to get fresh coffee taste with unsweetened cocoa powder. 
Let's take a closer look at the ground coffee taste machine and its parts.
Size and appearance
The coffee drinkers machine is a self-contained unit, so it doesn't require the use of extra parts other than your favorite reusable coffee cup. It weighs about 25 lbs, but don't worry; our service includes installation. However, you'll need about two feet cubed to accommodate the machine at your coffee station. It has a height, weight, and depth of 20 inches, 10.5 inches, and 16 inches, respectively.
Power supply and voltage
The Moriondo Coffee machine has an automatic energy-saving system that uses the following voltage: 110/120V 1400 W. To supply electricity, it uses two different cords, so you'll need two outlets available to operate it when making coffee.
Button Plate
The sleek, electronic button plate is the gateway to the machine operations. You simply touch the circular on-button to access the drink menu. Our coffee drinking machine won't talk to you like Alexa, but it will light up with a range of delicious Italian coffee drink options.
The one touch technology offers the following selections to make a delicious cup of coffee: espresso, americano, cappuccino, latte, macchiato, hot milk and hot water (for tea bags). With a Moriondo Coffee membership, your mid-day trips to Starbucks will start to dwindle.
Spout
The spout is used for both coffee grounds and milk. You can adjust its height to make room for cup sizes ranging from four to twelve ounces.
Coffee bean supply
Our coffee beans are included in the Moriondo Coffee membership. The machine itself has the capacity to hold enough beans for fifty to sixty cups of coffee. Whenever you need to order more beans, our representatives are available to take your order 24/7 and it comes with free delivery.
Coffee grinder
As one of the most important features of our machine, the grinder is built to last. It's made with high-grade stainless steel grinding disks.
Brewing unit
To aid the user-friendly design, avoid unpleasant taste, and to ensure easy maintenance, our coffee shop machine has a removable brewing unit.
Water tank or input
When you sign up for a Moriondo Coffee shops membership, you'll have the option to choose whether you'd like to hook up the machine directly to your own water supply, or to use the machine's internal water tank or include an external water tank. We're happy to talk to you about the best option for your space.
Water pump
The water pump is a high efficiency Italian pump similar to what is seen at your local coffee shop with maximum of 19 bars of pressure.
Milk Foam System
To create the delicious coffee drinks that contain frothed milk like at making coffee shops, our machine includes an automatic milk foam system. A milk thermos attachment can be found at the side of the machine, to keep the milk cool. The machine draws milk from that thermos and uses pump to steam the milk and serve milk foam directly into the cup.
User-friendly Maintenance
The coffee lovers machine will automatically remind users when it's time to for routine maintenance. You can easily access the automatic programs for cleaning, rinsing and descaling from the electronic button plate menu.
User Training
Morinodo Coffee lover machine provides training to all of its members when they receive the machine. Additional training videos from coffee experts to master the roasting process, make a morning brew cup of coffee with whole beans, ice cubes, and avoid unpleasant tastes are also available for members to access.
Support service
We send a replacement within 48 hours and we provide a live chat 24/7 to provide support for any issue our members might have. We've got you covered!
Ready for a free membership trial to give the coffee machine a test drive? Let us know!
Good Tasting Coffee: How to Identify Coffee Flavors
In order to appreciate the different types of coffee available, it's important to cultivate an awareness of its unique characteristics. Let's take a look at the way coffee connoisseurs judge different cups of coffee.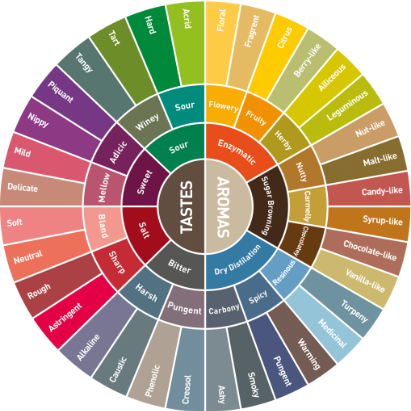 Aroma
The scent of a cup of coffee has a direct influence on how we perceive its flavor. As you drink coffee try to notice if the scent is smoky, fruity, earthy, spicy, nutty or grassy.
Acidity
One of the most defining characteristics of a cup of coffee is its acidity. This is the sharp, bright tangy quality of coffee that perks up our senses. Coffee doesn't necessarily contain just one type of acid, either. It may contain citric acid, malic acid (fruity in flavor) or even quinic acid from stale coffee, which gives us stomach aches.
Body
This is the weight, thickness and texture of coffee in your mouth. The body of different types of coffee falls on a spectrum of light- to full-bodied viscosity (thin to thick).
Flavor
This is where comparisons come in handy and there is some overlap between aroma and flavor. Your coffee might taste bitter, sweet, savory or sour with common comparisons to chocolate, wine or fruit.