Never Run Out Of Coffee Again: Why A Coffee Subscription Is The Way To Go
Picture this: It's a Monday morning, and your alarm goes off for the third time. Begrudgingly, you make your way to the kitchen. At least you still have time to make your morning brew. It's your ritual. Pretty much the only good thing about a Monday. You open the cupboard only to remember you're fresh out of your favorite beans. You're disappointed, but at least you can still have some at work. The office doesn't stock the best coffee, but it will at least give you the energy to survive the day.
Coffee is energy, comfort, and warmth. You should never have to settle for a mediocre cup of Joe. That's where a coffee subscription comes in.
Wait… What's a Coffee Subscription?
There seem to be subscriptions to everything these days. Meat, dog toys, pickles, Star Trek t-shirts (yes, these are all actual subscriptions). So, why not a subscription for your daily brew? Moriondo sends delicious, fresh ground coffee straight to your door every three months. Indulge in a variety of sustainably sourced, single-origin blends. Plus, you can enjoy a free coffee machine with your subscription.
Why Coffee Lovers Everywhere are Opting for a Subscription
What's so great about a coffee subscription? Well, for one, you won't have to settle for generic office coffee anymore unless your boss decides to take advantage of our workspace subscription, too. Keep reading to discover why you deserve a morning cuppa worth celebrating.
Convenient Delivery
We get it. You're busy and sometimes forget to add coffee beans to the shopping list. A coffee subscription guarantees a delicious blend is delivered to your home or office right on time, just before you run out. Gone are the days of weak, bland office coffee or spending five bucks for a decent cup from a corporate chain shop.
Freshness
No taste is quite as disappointing as stale beans sitting on a grocery store shelf for six months. You are choosing freshness and sustainability by opting for a coffee subscription with a free coffee maker. Our beans are freshly ground prior to delivery, ensuring optimal flavor and quality.
Variety
Coffee is not one size fits all. Perhaps you prefer something sweet and fruity while your partner likes a robust, dark flavor. Choose a variety of blends for your subscription ranging from light to intense. If pods are more your speed, try our Ecodisks. Because Ecodisks are 100 percent compostable, Moriondo has eliminated the use of over three million plastic pods in their first three years of business. We also give each of our subscribers a free coffee machine with their subscription, a sustainable coffee maker. Now that's giving back to the planet.
Affordability
Simply put, a coffee subscription means you can spend less money per cup, plus you're avoiding trips to the grocery store and overpriced cups from chain shops. If you're on a budget, a subscription for your brew supply is a no-brainer.
Reliability
What happens when your nearest grocery store stops stocking your favorite beans? What about those dreadful days when you make it to the coffee shop only to find it closed? The reliability of having your own cup of Joe keeps you ready and fueled for the day– any day. You can count on your subscription arriving on time, stocked with luscious flavors you won't find anywhere else.
Customizable
Are you a daily caffeine consumer? Weekly? Or do you enjoy several cups per day? Your subscription supply is entirely customizable depending on the number of cups you will consume in three months. Whether you're providing brew for one or 100, we can offer the perfect amount of fresh ground coffee.
Health Benefits
Scientific studies prove that many health benefits are linked to your morning brew. A consistent stock of coffee allows you to start each day on the right foot while you reap a variety of benefits, including:
Caffeine stimulates the nervous system, fighting fatigue and even increasing dopamine in the brain.
Decreased Risk for Type-2 Diabetes: 
Some studies indicate that daily coffee consumption may help to balance blood sugar levels.
Optimized Brain Health and Function: 
Some studies show that a daily cup of Joe may reduce the risk for diseases like Parkinson's and Alzheimer's.
Several studies have pointed to coffee consumers' decreased risk of heart disease.
Reduced Risk for Depression: 
Studies have suggested an eight percent decrease in the risk for depression in people that consume coffee daily.
Small-Batch Coffee Delivered Right to Your Door
Having a coffee subscription makes a heap of sense, but there are many different subscriptions. So why choose Moriondo?
Moriondo is on a Mission
Alvin founded Moriondo because he missed the amazing coffee he drank every morning in his hometown of Venice, Italy. He wanted to create a brand that served the same fresh, delicious flavor profiles he had grown to love. And thus, Moriondo was born.
Sustainable Products for Everyone
On top of fresh ground beans, Alvin dreamt of manufacturing a sustainable coffee maker that could deliver the same convenience as coffee pods, so that's exactly what he did. Moriondo's Ecodisks are 100 percent compostable while still providing a rich taste. You deserve to indulge in a coffee subscription with a free coffee maker.
A Subscription for the Whole Office to Enjoy
Are you a business owner looking to upgrade the coffee situation in your workspace? Your office coffee will be the talk of the town when you invest in a delicious brew for your team. Make your office a productive, happy place by energizing your employees. Plus, you can enjoy a free coffee machine with your subscription.
Stay Energized, Stay Happy
There are so many reasons to consider upgrading your morning blend. Moriondo coffee subscriptions provide you with fresh ground coffee whenever you need it. Stop waking up disappointed– enjoy a reliable, affordable, sustainable cup of coffee every day simply because you deserve it.
Good Tasting Coffee: How to Identify Coffee Flavors
In order to appreciate the different types of coffee available, it's important to cultivate an awareness of its unique characteristics. Let's take a look at the way coffee connoisseurs judge different cups of coffee.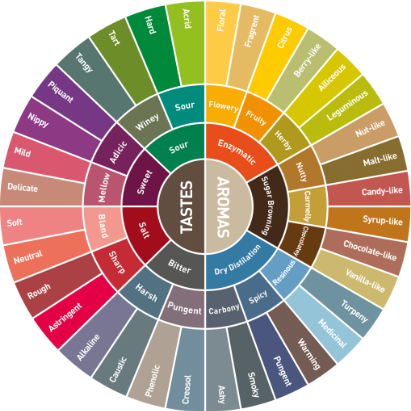 Aroma
The scent of a cup of coffee has a direct influence on how we perceive its flavor. As you drink coffee try to notice if the scent is smoky, fruity, earthy, spicy, nutty or grassy.
Acidity
One of the most defining characteristics of a cup of coffee is its acidity. This is the sharp, bright tangy quality of coffee that perks up our senses. Coffee doesn't necessarily contain just one type of acid, either. It may contain citric acid, malic acid (fruity in flavor) or even quinic acid from stale coffee, which gives us stomach aches.
Body
This is the weight, thickness and texture of coffee in your mouth. The body of different types of coffee falls on a spectrum of light- to full-bodied viscosity (thin to thick).
Flavor
This is where comparisons come in handy and there is some overlap between aroma and flavor. Your coffee might taste bitter, sweet, savory or sour with common comparisons to chocolate, wine or fruit.