How to Make Coffee Taste Good (18 Tips)
Believe it or not, there are many ways to make your morning cup of coffee taste incredible without having to take a trip outside your house.
With the following tips, you can save a ton of money and have delicious brewing coffee beans.
Are you one of the types of people that require a daily energy boost with coffee beans and vanilla extract to wake up your sleepy brain cells?
You're not the only one who has tried to brew a cup at home and failed to get the taste just right.
There are several variables that affect the flavor when making coffee.
Below are a few simple tricks.
1. A Clean Machine
Coffee will inevitably turn sour if you have old coffee grounds and stale water sitting in your machine.
Be certain to give your coffee brewer a thorough rinse on a regular basis.
This way, you eliminate the factors that negatively impact the taste.
2. Use A Water Filter In Your Coffee Maker
It's critical to use quality water in the ground coffee brewer because that's what it is primarily composed of.
Stay away from tap water, particularly hard water, containing high mineral content such as calcium, magnesium, and fluoride.
Although a small portion of these minerals add some flavor, having excess concentrations yield a dull cup.
Therefore, it's best only to use filtered water for great tasting coffee.
3. Try Cold Water
You probably believe that hot tasting coffee demands hot water. While this is the truth for instant coffee and espresso machines, it's not the same while brewing.
Actually, it's the opposite.
By pouring cold water onto ground coffee beans, you will have better-tasting coffee.
So begin with refrigerated, cold water and let the maker heat it up for you.
4. Know the Perfect Ratio and Temperature
In terms of hot water, you want your own coffee to sit between 194 to 205 degrees Fahrenheit.
Use a thermometer to measure the temperature of the boiling water. If using a machine, ensure the water is heated to the desired temperature.
As for the ratio of great tasting coffee to water, include a gram of coffee for every 15 or so grams of water.
This is important for your creamy coffee fix because proportion provides you with the perfect strength, meaning not too weak but not too strong.
5. Add Flavor To The Beans
If you're adding spice or sweetener to the amazing coffee, such as chocolate, lemon zest, or cinnamon, include these ingredients in the beans prior to the fine grind, not after.
With this technique, the brew tastes better than the coffee shop, even when you don't add more ingredients after you pour.
6. Homemade Latte
If you desire that frothy, gorgeous coffee, there's no need for a milk steamer. Instead, simply use a milk frother.
These devices cost less than $20, and it never fails to include them in the beautiful foam in a matter of minutes.
Simply add sugar and warm milk into the mug, allowing the frother to do the magic.
Once the black coffee is added, you have your own latte.
7. Iced Coffee
For those particularly hot afternoons, iced coffee is the way to go.
Furthermore, a cold brew with your own beans tastes far less acidic than your hot coffee does, so that's another reason to include it.
Just soak some coffee beans in a pot of cold water for 12 hours, then drain.
Grab a glass, fill it with ice cubes and the coffee, and you're set.
8. DIY Cream
Most creamer is just a mix of vanilla and milk.
Save yourself several bucks and make your own delicious cup with a few drops of vanilla in your milk and a coffee machine.
9. Coffee Ice Cubes
If you have leftover bitter coffee after the day ends, just pour it into a tray of ice cubes and freeze it.
You can use the leftovers of today to make the iced coffee of tomorrow.
Not only do ice cubes work at a local coffee shop, but they also make all other cold beverages delicious.
10. Dalgona Coffee
What was once a trend that was exclusive to Korea has exploded in popularity nowadays, and for a good reason. Better coffee!
To make this foamy and thick froth for your taste buds, simply whisk together 2 cups of warm water, two instant coffee brewing tablespoons, and two sugar tablespoons.
The key to remember is that the water has to be boiling hot.
Otherwise, your arm will tire out from whisking within minutes.
Simply spoon the foam of Dalgona over your milk or chocolate-based drink and enjoy.
11. Add Cinnamon
If you are trying to reduce your sugar intake, cinnamon is a spectacular alternative for coffee tastes.
It's flavorful, nutritious, and has far fewer calories than sugar does. It also has an unforgettable aroma.
12. Try Nut Milk
There are innumerable kinds of milk to choose from when adding flavor to your coffee beans.
To make it healthier, try experimenting with nut milk.
Regardless of whether or not it's coconut, almond, or soy, these alternatives add sweetness, distinct flavors, and creaminess to the coffee.
13. Include Salt
It may come as a shock to people, but including a pinch of salt in your fresh coffee beans without tap water will bring out the natural sweetness and neutralize the bitterness found in bad coffee.
Just because you cannot include sugar or cream doesn't mean your cup of joe has to be bitter.
14. Try Vanilla Extract
Some small drops of vanilla are enough to give your coffee a sweet and rich flavor.
If you have a real vanilla bean, it will make the taste even better. Taste the difference by throwing it into your pot of great coffee.
15. Add Lime or Lemon
You may not believe it's a good idea to add some citrus to a drink that is already acidic, but consider that just a small tincture of lemon or lime juice will make your bean coffee a completely refreshing experience.
16. Include Nutmeg
Nutmeg brims with mild sweetness and earthy flavors, so it tastes incredible with coffee. You only need one or two pods for effect.
17. Include Honey
One of the best alternatives to sugar outside of cinnamon is none other than honey. It adds sweetness but is packed full of antioxidants and a surplus of polyphenols.
18. Try Unsweetened Cocoa Powder
For those chocolate aficionados out there, this is the one for you.
The natural flavor of whole bean coffee brews can be amped with just a mere teaspoon of unsweetened cocoa powder for an incredibly delicious mocha.
At just ten calories more, the decadent, rich flavor will make your good coffee taste better.
Good Tasting Coffee: How to Identify Coffee Flavors
In order to appreciate the different types of coffee available, it's important to cultivate an awareness of its unique characteristics. Let's take a look at the way coffee connoisseurs judge different cups of coffee.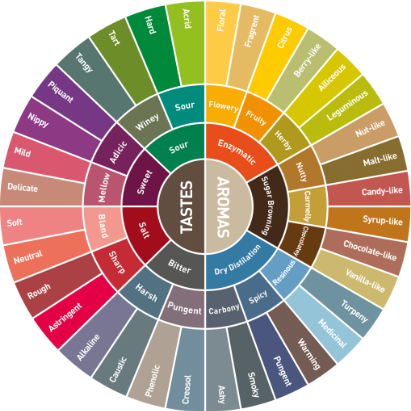 Aroma
The scent of a cup of coffee has a direct influence on how we perceive its flavor. As you drink coffee try to notice if the scent is smoky, fruity, earthy, spicy, nutty or grassy.
Acidity
One of the most defining characteristics of a cup of coffee is its acidity. This is the sharp, bright tangy quality of coffee that perks up our senses. Coffee doesn't necessarily contain just one type of acid, either. It may contain citric acid, malic acid (fruity in flavor) or even quinic acid from stale coffee, which gives us stomach aches.
Body
This is the weight, thickness and texture of coffee in your mouth. The body of different types of coffee falls on a spectrum of light- to full-bodied viscosity (thin to thick).
Flavor
This is where comparisons come in handy and there is some overlap between aroma and flavor. Your coffee might taste bitter, sweet, savory or sour with common comparisons to chocolate, wine or fruit.