Coffee for Hair: Complete Guide
Table of Contents
Get up and smell a fresh brew of coffee!
This classic beverage is a tried-and-true way to recharge the mind and provide a massive uplift to your energy. In a similar fashion, coffee provides skin and hair health with incredible sustenance too.
A particularly good ingredient for hair products, this beloved morning cup is a game changer for hair health. Coffee has a reputation for boosting hair growth, leaving you with healthier, thicker locks.
If you want to not only wake up the mind but also the mane, read on to understand the benefits of coffee for your hair growth, and how to craft yourself a mask while sipping on your daily cup of joe.
Pros of Coffee for Hair
Coffee is a rich compound containing a wide array of vitamins and nutrients that promote hair growth in many ways.
Studies have demonstrated that caffeine can boost and stimulate hair growth, reducing the loss of hair and making existing hair longer and thicker.
Restoring growth
Consuming coffee for hair helps the follicles stimulate and grow rapidly. Furthermore, caffeine is able to improve the scalp's blood circulation, allowing nutrients to be delivered to your hair faster.
This gives you a healthier and quicker natural hair dye growth cycle.
Shiny and soft texture
If your hair naturally tends to look under the weather, dry, or dull, having just a single cup of coffee daily will result in massive improvements over time.
The flavonoids contain antioxidants that serve as conditioners and facilitate hair growth, leaving a smooth and soft texture.
This also makes your mane far easier to take care of on a day-to-day basis.
Natural dying
For those of higher age who want to eschew their gray hairs, the dark colors in the drinking coffee beans leave a stained tint that picks up your old hair.
It works well when you want to cover things up in a jiffy.
Detoxification
Using coffee as a hair roots scrub helps remove toxins from the scalp and provides a thorough cleaning.
This removes the buildup of product in the hair follicles, excess levels of sebum, and promotes health.
Detangling
Applying a small spritz of drinking coffee on the hair works wonders for detangling. A key benefit of coffee grounds is their ability to soften the hair shaft.
This makes it much easier to straighten out kinks for softer and shinier hair.
How to DIY Coffee for Hair
Outside of your morning cup of joe, there are many ways in which you can utilize coffee grounds for your male hair follicles.
Regardless of whether it includes a shampoo rinse or conditioner mask, coffee is a powerful ingredient that can easily translate into your healthy hair routine.
Rinsing
A brewed coffee rinse is perfect for when you need to boost circulation, smoothen, soften, or simply clean the scalp for healthy hair.
Consider the use of the following ingredients:
2-4 cool cups of coffee

Bottle spray

Shower cap or towel
Begin by pouring the cool brewed coffee into the bottle spray. After you give yourself a shower with shampoo and conditioner, apply a coffee rinse.
Massage the solution into the scalp for up to 5 minutes, then wrap it in a towel or shower cap to prevent dipping. Leave the towel or shower cap on for about 20 minutes.
Finally, use lukewarm water to rinse off the coffee mix, then pat your head dry.
Coconut and Coffee Mask
A well-known coffee hair mask uses coffee and coconut oil to leave the locks smooth and conditioned. Using this continuously helps prevent loss and boosts the growth of existing hair. Consider the use of the following ingredients:
1/4 cup of coconut oil

1 tbsp of coffee powder
Begin by heating the mix of coconut oil until it's warm.
Add in the coffee powder in a tablespoon and stir to create a paste.
Massage the solution into the roots of your hair follicles, allowing it to sit for approximately 15 minutes. Wash your scalp with shampoo and conditioner.
Egg Yolk and Coffee Mask
Chock full of protein, this particular hair mask prevents ends from splitting, strengthens locks, repairs damage, and more.
You can truly reap the rewards of coffee for hair follicles using this powerful conditioner mask.
Consider the use of the following ingredients:
1 tbsp of coffee powder

1 yolk
Begin by mixing the egg yolk with the coffee, beating it down to form a paste. Take this paste and apply it to your hair locks and scalp, allowing an hour for soaking. Massage your head to stimulate the circulation of blood while the paste is malleable. Use lukewarm water to wash it off, then finish with shampoo to completely rinse it off.
Caffeine products
If you're looking to save yourself time and energy, there are innumerable hair growth care products infused with caffeine that exist. A number of shampoos, masks, oils, and conditioners can be purchased on the market in today's world.
Some people wonder if coffee can actually damage your hair follicles. The reality is that anything in excess use is potentially harmful, including coffee for hair growth. However, there is no definitive research that suggests your coffee will damage the hair. Still, there are several outstanding precautions you need to follow should you make the decision to try using coffee for hair.
What to watch out for
With brewed coffee, you need to be certain the solution has cooled down to room temperature prior to applying it to your scalp and hair. The skin sitting on the top of your head is far more sensitive, and it is the last area that you'd tolerate a burn when treating hair growth. Therefore, cold brews are usually recommended.
Avoid flavored coffees, and instant coffees as their higher concentrations of sugar have less potency for the hair shaft.
Keep in mind that coffee is able to act as a dye. If your hair is color-treated or lighter in shine, the coffee will have an extremely noticeable effect.
Although you rinse after all of the aforementioned treatments, there can still be some residue from the coffee that may stain towels. Therefore, it's best that you don't use white towels after these kinds of treatments.
Good Tasting Coffee: How to Identify Coffee Flavors
In order to appreciate the different types of coffee available, it's important to cultivate an awareness of its unique characteristics. Let's take a look at the way coffee connoisseurs judge different cups of coffee.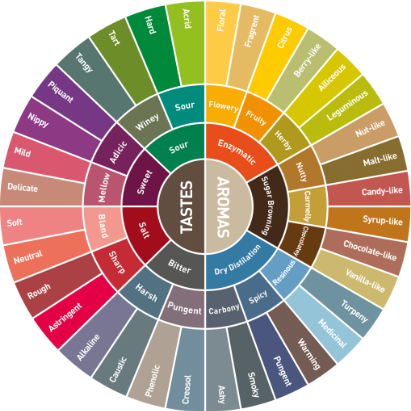 Aroma
The scent of a cup of coffee has a direct influence on how we perceive its flavor. As you drink coffee try to notice if the scent is smoky, fruity, earthy, spicy, nutty or grassy.
Acidity
One of the most defining characteristics of a cup of coffee is its acidity. This is the sharp, bright tangy quality of coffee that perks up our senses. Coffee doesn't necessarily contain just one type of acid, either. It may contain citric acid, malic acid (fruity in flavor) or even quinic acid from stale coffee, which gives us stomach aches.
Body
This is the weight, thickness and texture of coffee in your mouth. The body of different types of coffee falls on a spectrum of light- to full-bodied viscosity (thin to thick).
Flavor
This is where comparisons come in handy and there is some overlap between aroma and flavor. Your coffee might taste bitter, sweet, savory or sour with common comparisons to chocolate, wine or fruit.