Apple streusel coffee cake

Appetizing and moist, this apple coffee cake with delectable cinnamon streusel topping is a great recipe to enjoy with a hot cup of coffee. This delicious apple streusel coffee cake is packed with a layer of diced apples glazed in ground cinnamon and topped with a hearty serving of buttery streusel topping. This streusel coffee cake is perfect for breakfast, brunch, or dessert.
Coffee cake is a staple for any dessert lover. Even if you don't drink coffee, a good coffee cake appeals to anyone, especially when it is layered under a thick cinnamon streusel topping. This streusel coffee cake recipe has a delicious apple filling with a scrumptious contrast of textures and flavors from the streusel crumb topping and is perfectly paired with a scoop of vanilla ice cream.
Ingredients to Prepare the Best Apple Coffee Cakes Using Baking Powder
To prepare the best apple streusel coffee cake, you'll need the following ingredients:
The star of this coffee cake is easy to find; visit your local apple orchard and select any apples of your choice, such as Honeycrisp or pink lady apples. However, we suggest using Granny Smith apples as they are the conventional baking apples for apple cake recipes or pie filling. Also, ensure you use diced apples instead of apple slices, making cutting through your apple streusel coffee cake easier.
To achieve a perfectly creamed cake batter, you'll need softened butter and melted butter for a crumbly texture to your apple streusel topping. We suggest unsalted butter for both so as not to overpower the comforting flavors of the apple mixture.
The milk mixture provides a creaminess that complements the baking powder and baking soda more than buttermilk and keeps the cake batter dense and velvety to sustain the apple cake. For an extra kick, you may add a few spoons of sour cream with vanilla extract to uplift the flavors of the ground cinnamon.
We suggest using a combination of both light brown sugar and white sugar as it makes the coffee cake batter moist and balanced.
Cinnamon streusel topping
Of course, cinnamon is essential to achieve a delicious apple streusel coffee cake. If you don't have cinnamon, nutmeg is a good substitute.
All-purpose flour mixture
A high-quality all-purpose flour mixture is essential for a uniform, lump-free cake batter and doesn't require sifting.
An optional addition, caramel sauce adds a fresh look to the cake and goes well with the apple cake and cinnamon streusel.
Additionally, baking powder, baking soda, eggs, vanilla extract, greek yogurt, and kosher salt are needed for the perfect apple streusel coffee cake, like other coffee cake recipes.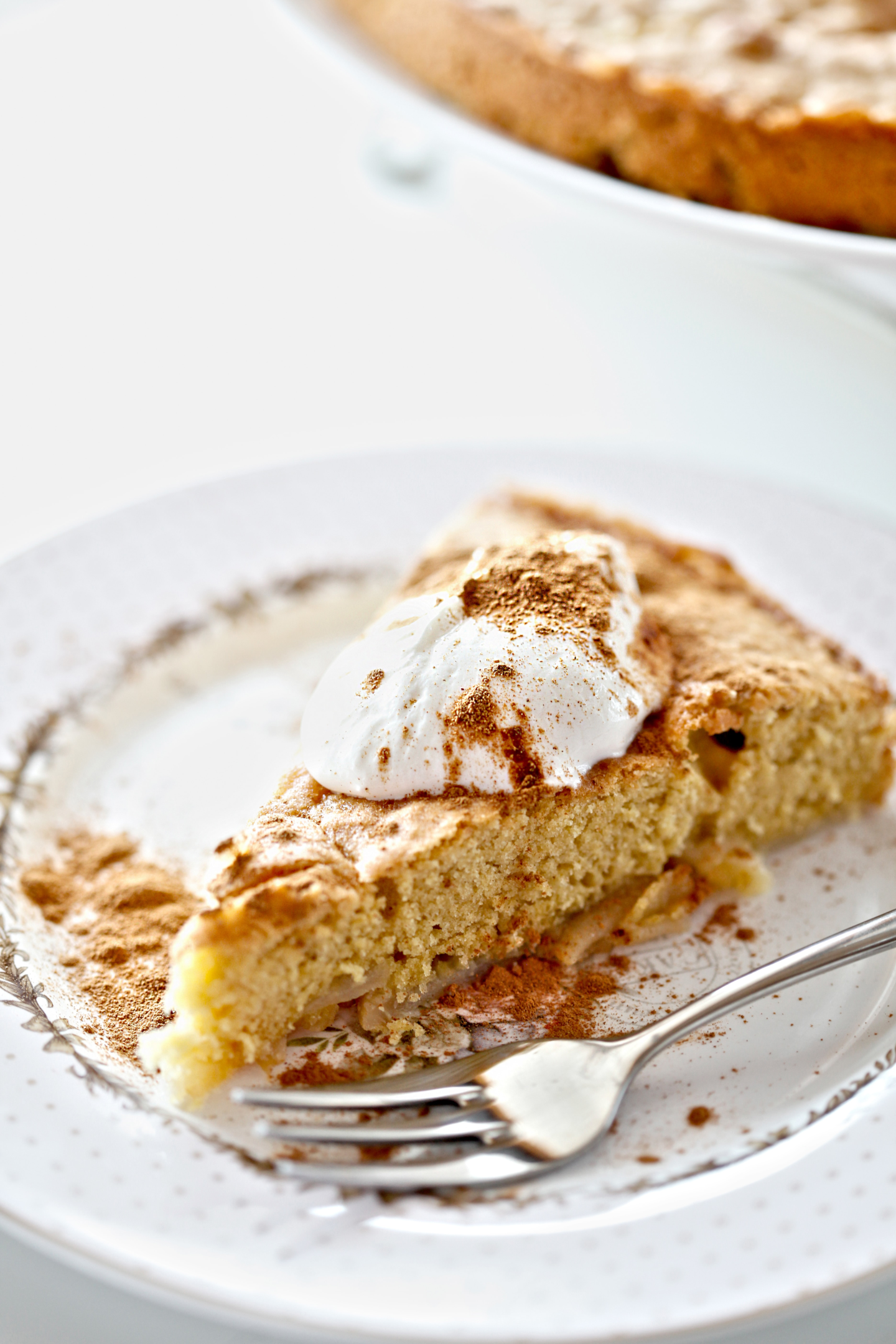 Step 1: Preparing the Apple Streusel Coffee Cake Crumb Topping
Mix the dry ingredients (cinnamon, flour mixture, and light brown sugar) in a medium bowl. Then, add the softened butter and cut it into the other ingredients with a stand mixer. Repeat this step until the apple streusel coffee cake mixture resembles sand and remains firm when pressed together.
If the butter is cold and the mixture doesn't hold, you may use your hands to stir the cinnamon streusel mixture. The warmth from your palms will melt the butter to form a perfect streusel coffee crumb topping.
Step 2:Preparing the Apple Streusel Coffee Cake Batter
Classic cake-mixing methods are used to achieve a tender cake. You must start by creaming the butter with brown sugar, vanilla essence, and eggs into a large bowl.
Then, add half the dry ingredients, milk, sour cream, and the remaining dry ingredients.
Spread this batter into a prepared baking pan and bake at 370 degrees Fahrenheit until a toothpick inserted comes out clean from the center of the cake.
Step 3: Preparing the Apple Cake Filling
Finely dice your apples so they're small enough to cook quickly and become juicy and soft in the oven.
Next, spread the apples with cinnamon, all-purpose flour, lemon juice, and light brown sugar in a prepared pan and sprinkle streusel topping.
Step 4: Assemble the Apple Streusel Coffee Cake
Sprinkle the apple streusel coffee mixture evenly over the batter once a portion of the batter has been placed in the pan.
Disperse the remaining batter over the apple streusel in an even layer with the spoon's backside.
Dust the streusel topping on top of the coffee cake batter. Since the streusel layer is quite thick, pressing some of the crumble into the batter works well.
Bake until the middle of the apple streusel coffee cake is no longer runny. Remove from the oven once the topping and edges are golden brown. Allow the coffee cake to cool completely before serving.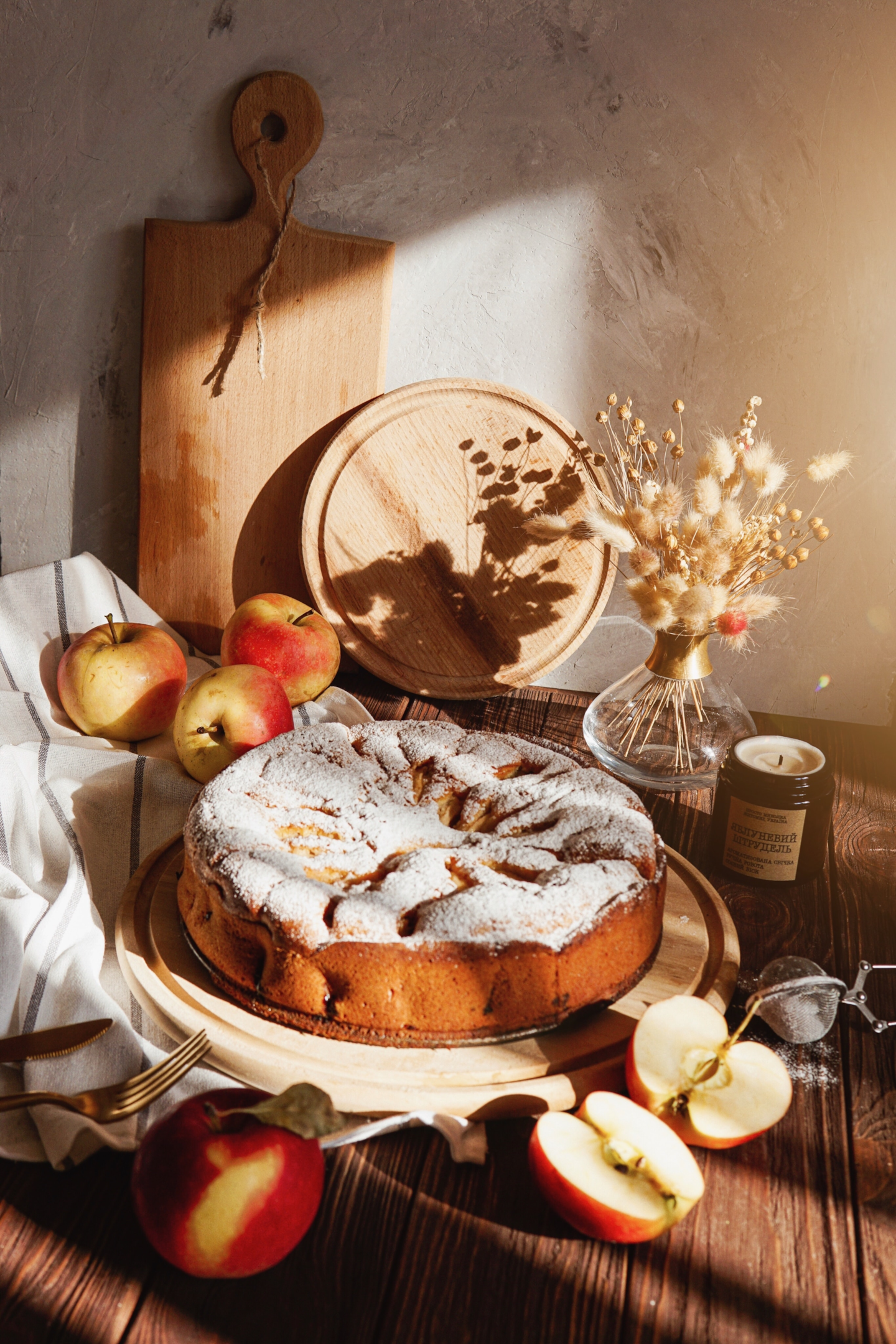 Can a coffee cake be frozen?
Of course. If you intend to serve the cake two days after baking, you may wrap it in plastic wrap and freeze it.
What are the best apples for streusel coffee cake?
As mentioned earlier, granny smith apples are perfect for baking recipes, specifically during apple season, as they remain firm and juicy in the oven.
How should the coffee cake be stored?
After you've let your coffee cake cool to room temperature, store it in an airtight container and place it in the fridge.
How can coffee cake be served?
This cozy dessert is best served with a mug of coffee or tea, whichever is your preference. Drizzle with cream cheese icing or dust with powdered sugar for an elevated look.
How long does it take to bake a coffee cake?
Since creaming the butter is time-consuming and the cake remains fresh and moist for a few days after baking, we suggest you bake the cake a day before you expect your guests or on Sunday night so you can enjoy it as a quick breakfast over the week.
Is coffee cake the same as streusel crumb cake?
Streusel crumb cakes have a thicker layer of crumb topping and less cake underneath, while coffee cakes have more cake and less crumb topping. Both make for a delicious dessert to enjoy with a cup of hot chocolate or coffee.
Nutritional Facts
With only 150 calories per serving, our apple streusel coffee cake recipe is the perfect low-carb solution to on-the-go breakfasts. Made with natural-grown apples, this recipe contains nutritional calories and is prepared with nutritive ingredients only.
Moreover, our apple coffee cake recipe can even be incorporated into keto diets by replacing the all-purpose flour with a keto-friendly alternative. For more nutritional facts and counsel, please refer to a nutritionist.
Our Advice
Avoid over-mixing the cake batter! Excessive mixing can produce a tough, dry cake instead of a moist, delicate crumb.
Ensure the apple slices are not cut too thick. You want them to be in bite-sized pieces to retain their juice and cook quickly.
Allow your cake to cool on a wire rack to allow air to circulate beneath the pan's bottom and speed up the cooling process.
Preparing the baking pan with parchment paper makes it easy to remove your cake from the pan and cut it. To avoid scratching the bottom of the pan, always remove the cake before cutting it.
Conclusion
Apple streusel coffee cake is the perfect cozy dessert for the festive seasons; it's easy to bake, is low in saturated fat and monounsaturated fat, and is rich in vitamin C from the fresh, home-prepared apples.
It is also packed with various flavors, from light brown sugar to lemon juice and cinnamon powder, that tantalize the palate.
For more healthy recipes to enjoy with your coffee, visit our blog.
Resources
https://www.cravingsomecreativity.com/apple-cinnamon-coffee-cake/
https://dancearoundthekitchen.com/apple-streusel-coffee-cake/
https://www.inthekitchenwithmatt.com/apple-streusel-coffee-cake
https://thiswifecooks.com/apple-streusel-coffee-cake-vegan-recipe/
Good Tasting Coffee: How to Identify Coffee Flavors
In order to appreciate the different types of coffee available, it's important to cultivate an awareness of its unique characteristics. Let's take a look at the way coffee connoisseurs judge different cups of coffee.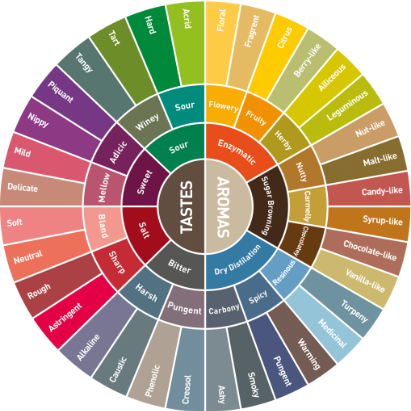 Aroma
The scent of a cup of coffee has a direct influence on how we perceive its flavor. As you drink coffee try to notice if the scent is smoky, fruity, earthy, spicy, nutty or grassy.
Acidity
One of the most defining characteristics of a cup of coffee is its acidity. This is the sharp, bright tangy quality of coffee that perks up our senses. Coffee doesn't necessarily contain just one type of acid, either. It may contain citric acid, malic acid (fruity in flavor) or even quinic acid from stale coffee, which gives us stomach aches.
Body
This is the weight, thickness and texture of coffee in your mouth. The body of different types of coffee falls on a spectrum of light- to full-bodied viscosity (thin to thick).
Flavor
This is where comparisons come in handy and there is some overlap between aroma and flavor. Your coffee might taste bitter, sweet, savory or sour with common comparisons to chocolate, wine or fruit.