6 Best Examples of Innovation In the Workplace
In any workplace, the last thing you want as an employer is for creativity and innovation to stagnate. Fortunately, there are easy changes employers can make to the workplace to help spark creative thinking and new ideas. Here are some of our biggest tips and tricks for workplace innovation:
Table of Contents
In any workplace, the last thing you want as an employer is for creativity and innovation to stagnate.
Fortunately, there are easy changes employers can make to the workplace to help spark creative thinking and new ideas. Here are some of our biggest innovation in workplace examples.
Turn the Break Room Into an Employee Hang Out
Giving employees a casual space to relax can help boost creativity and innovative ideas. Studies show that when faced with a prolonged task, the brain responds better when people take breaks.
So creating a space meant for refilling a cup of coffee, socializing among innovative employees, and just taking time to sit quietly to ponder new ideas can help support innovation in the workplace. We have more to say on this topic here.
Designate Areas for Collaboration
Some of the best innovative ideas come from not one person but rather groups of people. Try creating a coffee shop-like environment in your office.
Either way, having a specific area for employees to go and meet for creative ideas and conversation will cultivate greater innovation within the company to meet customer demand.
Place Focus on Leadership and Management
It's hard for workplace innovation to be cultivated within a vacuum. A lot of workplace innovation and creativity comes from the top. Employees look to leaders of the company to set the tone for what is permitted in the workplace.
Senior leaders should make efforts daily to encourage employees to take responsibility for new innovative ideas instead of minimizing them.
Help Employees Find Meaning and Purpose
Innovation and motivation are heavily personal for individual employees. In one-on-one meetings with employees, try identifying their personal goals for growth. Then, figure out ways to align that growth with the wider team and company goals. This helps encourage innovation, fosters a more personal connection, and creates room for greater creativity.
Give Employees Extra Time
Most innovative companies like Google and 3M are famous for giving their workers a percentage of their day purely for daydreaming and talking about ideas with other employees to encourage innovation and encourage staff.
In fact, many new and exciting ideas in innovative business from Google like Gmail, Google Transit, and Google News came from this special incubation time.
Who knows, giving employees independent time with no boundaries to work on any project they please and new ideas could be the next big moneymaker for the business with their valuable ideas as a way of encouraging innovation.
Offer Transparency
Encouraging innovation successfully means having a blueprint of where to go. An often-overlooked element of workplace innovation is simply being transparent about the company goals, new ideas, and the benefits that come with reaching those goals. This makes a huge difference, especially when dealing with people from diverse backgrounds who share ideas.
Hold meetings, send announcements, and make space for lower management and new employees to ask questions and have different perspectives on problem-solving. When you hire smart people who know where they're headed with innovative thinking, they can use valuable skills and their most productive assets with more purpose to achieve new solutions as well as potential solutions.
At the end of the day, there is no secret formula or key aspect that encourages creative thinking in a work environment.
Resources innovation shifts and changes shape depending on the individual, the work environment, the industry, and workplace culture and different perspectives from informal discussions.
To cultivate innovation, it's essential to assess what works within your own organization and start from there. Treat the innovation process as a marathon, not a sprint.
Conclusions
Companies need to care about their innovative approach to a new idea because going beyond the status quo is precisely what gives them a competitive advantage in the market share with potential benefits as a result of employees' time and employees' work.
By allowing employees an open space to recommend ideas and dole out new perspectives, large companies maximize employee retention and satisfaction.
This is one of the key reasons why staff members go out of their way in a dedicated area to achieve public recognition for their company.
With the right tools, regular meetings, and resources needed, nothing is impossible or time-consuming.
Good Tasting Coffee: How to Identify Coffee Flavors
In order to appreciate the different types of coffee available, it's important to cultivate an awareness of its unique characteristics. Let's take a look at the way coffee connoisseurs judge different cups of coffee.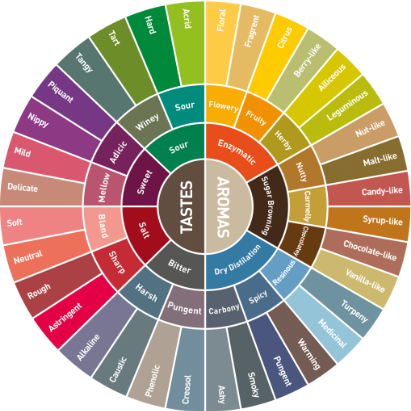 Aroma
The scent of a cup of coffee has a direct influence on how we perceive its flavor. As you drink coffee try to notice if the scent is smoky, fruity, earthy, spicy, nutty or grassy.
Acidity
One of the most defining characteristics of a cup of coffee is its acidity. This is the sharp, bright tangy quality of coffee that perks up our senses. Coffee doesn't necessarily contain just one type of acid, either. It may contain citric acid, malic acid (fruity in flavor) or even quinic acid from stale coffee, which gives us stomach aches.
Body
This is the weight, thickness and texture of coffee in your mouth. The body of different types of coffee falls on a spectrum of light- to full-bodied viscosity (thin to thick).
Flavor
This is where comparisons come in handy and there is some overlap between aroma and flavor. Your coffee might taste bitter, sweet, savory or sour with common comparisons to chocolate, wine or fruit.