13 Best Coffee Bean Drinks
Table of Contents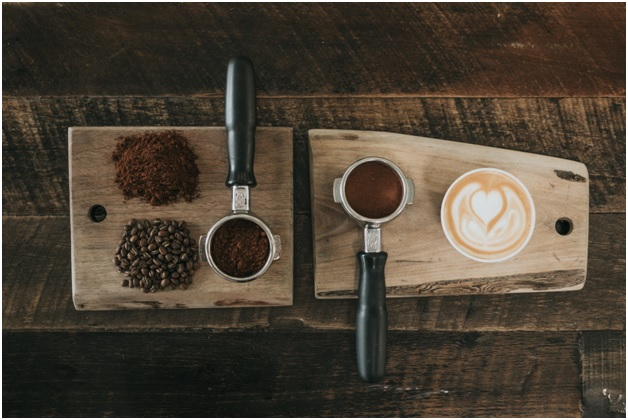 Many people require a daily cup of joe in the morning just to make it through the workday, but not everyone enjoys the taste of it.
There are so many aspects of a job that are unpleasant, but you shouldn't need to choke down your cup of coffee. Fortunately, several solutions exist below.
The three most common coffee bean drinks include espressos, iced lattes, and black coffee.
Espresso
Espressos are created by forcing boiling water through coffee beans that are finely grounded, resulting in a drink that is concentrated and syrupy.
This serves as the foundation for most Italian beverages in coffee shops.
Furthermore, in comparison to regular cream ice coffee brews, espresso is far stronger than other types of drinks.
Latte
Lattes are espressos found at your local coffee shop that uses steamed milk with a dollop of foam on the top.
They are far more common in America than other drinks, such as cappuccinos, due to the lack of foam, creating a gentler and smoother experience for those with palettes that are more sensitive to coffee lovers.
If you desire to spice your latte up, consider the addition of flavored syrup and cream ice.
Simply pour steamed milk and espresso over some ice cubes to create a frozen version of this beverage.
Black coffee
Black coffee is as standard as it gets for coffee lovers.
The popularity is mainly attributed to how simple it is to make, be it pour-over, drip, French Press, etc. When you serve black coffee, it comes with no additives.
Caramel Ice Blended
The Caramel Ice Blended is a must-have cold brew coffee bean drink made of espresso to begin your day the right way. Furthermore, the vanilla French Deluxe powder adds an incredibly rich, creamy element to your harsh beverage.
With the addition of caramel sauce drizzled on top and seeping its way into the drink, the beverage explodes with a season of flavor. To mix up the texture with fluffy, light delight, consider adding some whipped cream.
Vanilla Latte
Regardless of the current weather conditions, the vanilla latte is a go-to for many people. Feel tiredness drift away as you slowly sip on this delicious sensation.
You'll barely notice the espresso beneath the non-fat milk and vanilla powder. If you're concerned about your calorie intake, the vanilla latte will make it far easier to switch from non-fat milk to whole milk, just because the recipe is specifically tailored to be non-fat.
Often, this kind of milk can feel hollow and empty. However, once you steam it, the mix becomes creamy and thick.
Vanilla lattes are best served on summery, hot days or with a comforting thick foam as an alternative for days in which you wear sweaters.
Burnt Caramel Cold Brew Latte
Chicory plant roots are added for nutty, rich flavors. Just imagine all of these tastes combined with sweet caramel. This masterful combination ensures the caramel is present without drowning lesser flavors included in the mix.

 

Each aspect of the drink has the correct proportions, and you'll be extremely surprised by the outcome.

A cup of cold caramel brew contains far more caffeine than the traditional espresso, so you'll be on your feet in seconds if you choose this variation.
Mocha Ice Blended
Espresso shines brightest with the incredible combination known as the dark chocolate Mocha Ice Blended, especially when you're craving hot chocolate but have a greater necessity for caffeine when browsing coffee shop menus.
You no longer have to make the decision after consuming the Mocha Ice Blended. It is composed of Special Dutch chocolate powder, which is cocoa-flavored and creamy.
The Mocha Ice Blended beverage is topped with whip cream and served with ice, bringing the summer comfort of hot cocoa.
Bali Blue Moon Coffee
Cold brew coffee standards are extremely strict with the Bali Blue Moon, as there must be a 95% or higher concentration of red fruit in the cherries. Furthermore, there are orange and tangerine trees beside the cherries in the grove, all adding to the flavor profile.

 

Semi-sweet chocolate and walnuts are significant flavors in a cup of Bali Blue Moon coffee cream ice blended.

Still, you'll notice a taste of black cherry that's rounded out with a scent of toffee. In combining your sense of smell and taste, Bali Blue Moon Coffee creates an outstanding, all-around experience. Furthermore, you'll barely notice the low acidity as it sits under the rich, diverse flavors.
Cookies and Cream Ice Blended
For those who adore ice cream, imagine taking a trip to your favorite stand, except you'll be able to find it in multiple locations made with only the greatest ingredients.
This espresso roast coffee beverage is met with a powder of special Dutch chocolate, adding a delectable flavor of cocoa in addition to a smooth texture.
The cookie pieces and dark chocolate syrup make the drink what it is to bring out your inner child. Many enjoy the cookie crunch in combination with the creamy, smooth powder.
Flat White
An early trip to the office in the morning after spending the night partying is no match for the added boost of espresso in the classic Flat White.
If you are desperate for a kick of energy, the Flat White is about as smooth as things get, soothing and warming your throat with every passing sip. They're also quite light, thanks to aerated milk, which will ensure you're not bogged down all day.
Several flavor options exist, and Flat White is commonly served in mocha, hazelnut, and vanilla variations. Each of these includes a signature powder with the type of powder depending on the drink's flavor and caramel coconut latte coffee flavor.
Iced Tea Latte
If cold brew coffees and espresso are not your things, consider a cup of Iced Tea Latte.
These beverages contain all the wondrous properties of traditional iced lattes, but the shot of tea replaces what would normally be reserved for a double shot of espresso.
The frothy milk gives the drink a fluffy, light texture.
You're able to choose to order the frozen drink as is, include flavor powders, or select a different flavor or type of tea.
Expert baristas recommend that you select a tea containing a bold flavor as the milk overpowers the more subtle variations. One of the most popular includes Chai lattes.
Mocha
Chocolate and coffee drinks are two worlds; the best of both are brought together with a mocha. This is an espresso drink that replaces foam with whipped cream and chocolate.
The ratio depends on the preference of the drinker. Regardless, it's on the menu at every coffee shop.
Frappe
Coffee frappes are iced beverages with a beaten blend to the point of creating a foamy mix.
This type of drink traditionally comes with tasty toppings and whipped cream, which can be served frozen or cold.
You have the option of adding ice prior to or after beating the mixture, in addition to customizing it with vanilla extract, sweet sauces, and milk.
Good Tasting Coffee: How to Identify Coffee Flavors
In order to appreciate the different types of coffee available, it's important to cultivate an awareness of its unique characteristics. Let's take a look at the way coffee connoisseurs judge different cups of coffee.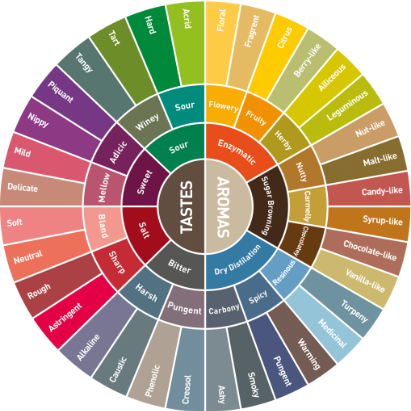 Aroma
The scent of a cup of coffee has a direct influence on how we perceive its flavor. As you drink coffee try to notice if the scent is smoky, fruity, earthy, spicy, nutty or grassy.
Acidity
One of the most defining characteristics of a cup of coffee is its acidity. This is the sharp, bright tangy quality of coffee that perks up our senses. Coffee doesn't necessarily contain just one type of acid, either. It may contain citric acid, malic acid (fruity in flavor) or even quinic acid from stale coffee, which gives us stomach aches.
Body
This is the weight, thickness and texture of coffee in your mouth. The body of different types of coffee falls on a spectrum of light- to full-bodied viscosity (thin to thick).
Flavor
This is where comparisons come in handy and there is some overlap between aroma and flavor. Your coffee might taste bitter, sweet, savory or sour with common comparisons to chocolate, wine or fruit.